Sudoku Syndication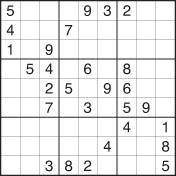 Welcome to Sudoku Syndication - the only choice for high-quality, exclusive Sudoku in any design, style or format.
If you would like to have superb quality Sudoku, Super Sudoku, Samurai Sudoku or Killer Sudoku puzzles in your newspaper, magazine or book, look no further.
We can provide you with regular orders of daily, weekly or monthly puzzles for any type of publication. If you need three for a newsletter, 365 for a year or even a few million, we have your exclusive Sudoku ready for you within hours in the format of your choice.
Newspapers and magazines

Sudoku will have a positive effect on your newspaper or magazine's circulation figures. Our customers include The Times and Sunday Times, who understand the value of top-quality Sudoku puzzles printed daily in their newspapers.
Add a range of beginner to challenging Sudoku puzzles that people find enjoyable to play and your publication will gain a whole new captive audience.
The puzzles will be created for you up to a year in advance, allowing for early placement in upcoming editions. We can create drop-in files that include the introduction text, ratings and id numbers.
Thinking of switching away from your existing provider? If you have a particular style of Sudoku, we can adapt our generator and designs to meet your unique set of requirements.
Books, websites and other media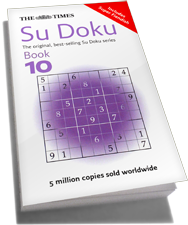 If you want to have a Sudoku book for publishing in no time - we can sort it for you!
We can generate hundreds of customised Sudoku using your own rating system and styles. Just talk with us about your ideas and we'll be sure to meet your puzzling demands.
We have already had the opportunity to supply Sudoku for a range of other media including Samsung UK, Times+, Vorderman's Big Brain Game on Sky One, an interactive TV gaming service and several large websites.
We can offer large feeds of Sudoku direct or indirect to websites or interactive TV (XML, PHP, SQL, CSV, ...) from our powerful US and UK dedicated servers.
Flexibility
All Sudoku puzzles and text copy can be provided for direct placement in any PC or Mac file format - no further editing required. Whether you use Adobe InDesign, QuarkXPress or any publishing application - we have the correct file format for you.
You can choose the exact Sudoku style that you want, or let us sort the appropriate style and ratings. Once we know your requirements, regular Sudoku can be emailed or uploaded to a special online account. It's all very easy!
Variants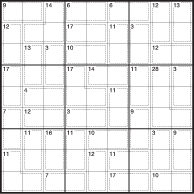 We can offer some Sudoku variants that are unique to Sudoku Syndication, from the usual symmetrical or asymmetrical Sudoku to special patterns, colours, Samurai Sudoku, 3D Sudoku, Killer Sudoku (shown here), hidden words and phrases (Godoku) and much more. If you want a new angle on Sudoku, just request an idea to meet your requirements.
Here are some of the ways we can customise Sudoku puzzles:
Asymmetric or Symmetric (rotational and reflective through any axis or combination of axes)
Font types, styles and sizes, colours, line widths, square or rounded corner frame
Use of other identifiers for cells such as letters, symbols, colours, odd/even numbers
Graphic styling with images or effects (i.e. drop shadow)
Irregular boundaries between blocks
Interlacing multiple Sudoku grids
Exceptional quality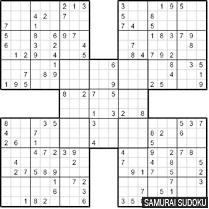 Our Sudoku generators are the most highly-developed and advanced in the world.
We deliver high-quality, accurate Sudoku ahead of your deadline, available online to retrieve whenever you need it.
If you want amazing Sudoku like no other; talk with us now about your syndication requirements.
All our Sudoku and variants have the following features:
Our puzzles are always world exclusive: we do not share Sudoku
Sudoku have a unique solution: we never create puzzles with more than a single solution
Sudoku will always be solvable by logic and will never require guessing
All Sudoku are expertly rated using a range of very sophisticated emulation of "human" techniques
Sudoku will always be square as the number of rows and columns is the same
All numbers/letters will be placed exactly in the centre of each cell
We provide solutions to all syndicated puzzles, this is inclusive in the pricing
Pricing
Sudoku puzzles will lend themselves to competitions and offer great value for column inches. Our prices vary depending on a number of factors including the type and frequency of the publication and type of Sudoku. There are reductions for bulk or regular Sudoku syndication.
If you are looking for puzzles for a charity or academic publication, we may be able to offer a range of exclusive free Sudoku in return for a small advert.
Please complete the form or call us now for a quotation or further information.
Sudoku Samples
We have a selection of Sudoku examples for you to try in your publishing software. The samples are copyright of Sudoku Syndication, and are not for sale or reproduction. If you want to try an alternative format, just contact us.
Contact us